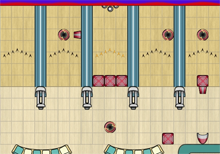 Game:Gompei's Gutters
Gompei's Gutters offers the full joy of bowling at WPI's on-campus bowling alley (also called Gompei's Gutters) and then some! Adding ramps, bumpers, and pipes to the experience, Gompei's Gutters is a ridiculous bowling game that is sure to delight.
---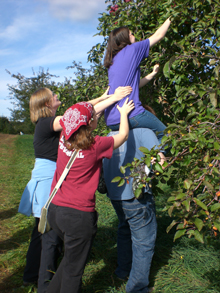 There are lots of clubs on campus to join with fun events to go to!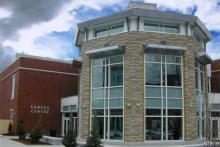 The WPI Experience
Learn more about the WPI Experience in our forums!
Click here to go to the forums!
Couldn't make it to "A Closer Look" @ WPI? Check out some of the videos below to catch a glimpse of what happened and see what you can do at WPI!
---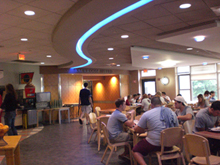 About DAKA
It is possible to 'win DAKA' by being part of the last group of people to leave DAKA when it closes at night. This is related to the Ultimate DAKA Challenge, which is when a group of people is the first to get into DAKA in the morning when it opens, stays the whole day, and then leaves last at night.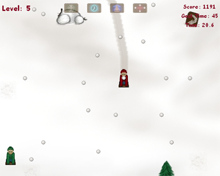 Game:DAKA Tray Sledding
Take one part tray, one part snow, and three parts fun, mix them all together, and what do you get? You get DAKA Tray Sledding! This game brings the enjoyment and exhileration of careening down a hill at high speed equipped only with a lone dining hall tray. A fast and furious game that you can't tear yourself away from!
Go play DAKA Tray Sledding now!
---
About The 17 Hour Workload
The easiest way to estimate how much time you will actually need to spend in a course is by finding out how much of the work is project work. It takes much more time to do a project well than it does to do a homework well. Even though professors give more time to complete projects than homework, they are more often than not conservative in their time estimates.
About The Fountain
One of the common dares on campus is to run through the fountain while it's on. The water in the fountain is extremely cold, even in the summer, and because of the high pressure of the water it can soak someone from head to toe even if they run very quickly over it.
Read more
About IMGD
There are few important things to note about IMGD. First, the major isnít about playing games. You need to play games to make games, but itís not a major you go into because you like playing video games a lot. Making games is a lot different, but is still awesome if itís what you want to do.
Read more
About Computer Advice for IMGD Art Majors
Youíll probably be told that you donít need a computer when coming to WPI, and that everything you will need is provided for you in the labs, but youíll probably find relying solely on the IMGD lab to be more frustration than itís worth.
Read more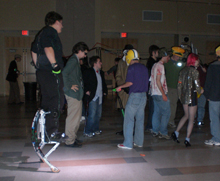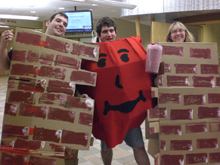 Highlights from WPI's big Halloween event: "Costume! Dance! Party!"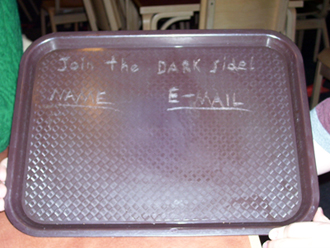 DAKA Trays
Until the 2008-2009 school year, DAKA had trays that people would put their food on. People would often carve things into these trays, to the point where there were few trays uncarved by the time they were phased out.
About East Hall
East Hall is the new residence hall on campus, made for upperclassmen. It's shiny and new and has tech suites, which are a room with a computer and a huge screen, for meeting, homework, movies, games, whatever. It has air conditioning, kitchens, it's own gym, music practice rooms, and RFID chip readers, so instead of swiping your ID, you just hold it near the reader and a door unlocks for you.